The World Dog Show 2018 in Amsterdam is for the Dutch Kennel Club 'Raad van Beheer' reason to publish a new book about the national Dutch Dog Breeds. The book 'Amazing Dutch Dog Breeds' will showcase all 9 national dog breeds. The authors of this book are Janny Offereins and Diana Striegel.
The book 'Amazing Dutch Dog Breeds':
Available in English and Dutch language
Special edition for the World Dog show 2018 in Amsterdam
Nine monographs of Dutch dog breeds collected in one book
More than 350 illustrated pages
Connects the past and present of the Dutch dog breeds
Packed with special photo material
Authors Janny Offereins and Diana Striegel
With co-operation of breed clubs and breed specialists
Special contribution by mr. Martin van de Weijer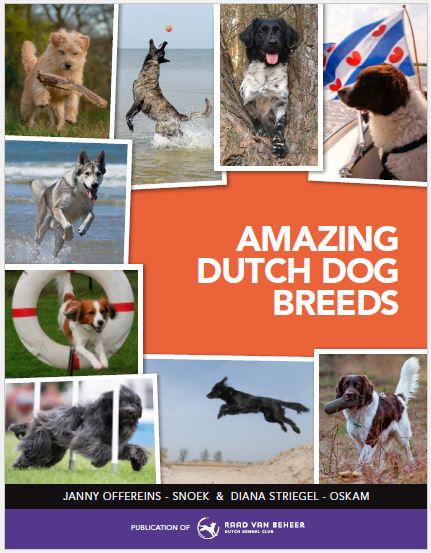 Order now!
The price of the book is €19.95 exclusive packaging and shipping.
Packaging and Shipping to Germany or Belgium amounts to €13,50
Total amount will become €33,45
Packaging and Shipping outside these countries is on request. please contact us through a mail to communicatie@raadvanbeheer.nl
For ordering in North-America (USA, Canada or Mexico) please contact our partner Jac M. Knoop from A.M.S. Incorporated.
Telephone 1-217-582-2288 CDT
Fax 1-217-582-2427
E-mail info@falconesc.com
They accept payments through credit card, PayPal and Check.
Ordering is possible in two steps.
Step 1. by sending an e-mail to communicatie@raadvanbeheer.nl
In this e-mail please note: name, gender, postal address, country, phone number (please note country number), e-mail address, language of the book (Dutch or English) and the amount of books ordered.
Step 2. Transfer the total amount of the order to IBAN: NL17ABNA0437311465 BIC: ABNANL2A please note in the description order: Amazing Dutch Dog Breeds.
When we have received both the e-mail and payment we will sent you the book. It takes most of the time up to 5 days before we have received the money transfer. After this the delivery time can take up to 10 days.
For ordering with delivery in the Netherlands click here
Erratum/corrigendum
Inaccuracies found their way in the book Amazing Dutch Dog Breeds. Therefore, we have created a corrigendum. This corrigendum will also be added to all books in stock.
Erratum_corrigendum_Book Amazing Dutch Dog Breeds, 1st edition 2018.pdf